NCAB believes that the company has the following strengths and competitive advantages, which enable NCAB to realize its strategy and achieve its long-term goals.
Strong position in a market with stable growth and fundamental trends benefiting PCB suppliers
Unique proposition to customers and manufacturers
Long track record of profitable growth with resilience to macroeconomic shifts
Asset light business model with strong cash flows
Experienced management team with many years of experience of managing a company with growth and good profitability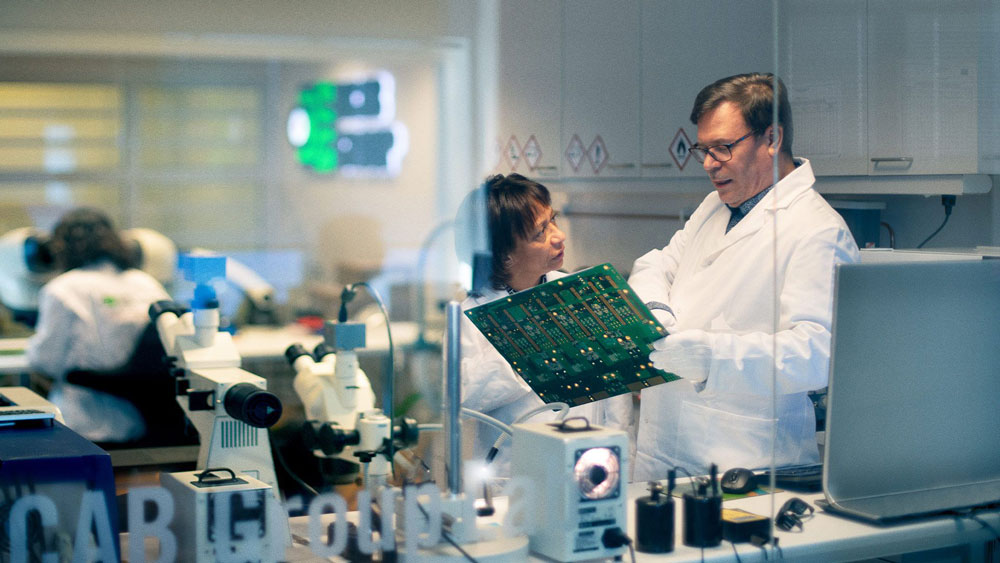 Market trends – consolidation and decrease in domestic production
Growth in demand for electronics

Increased digitalisation is driving the growth in electronic products. The value of these products in relevant markets, including medtech, automotive, industrial, aerospace and defence, telecom as well as computer, communication and consumer electronics (3C) is expected to grow at approximately 4% per year until 2021 globally, according to a report from EY. The market is also demanding increasingly sophisticated and advanced PCBs. At the same time, PCBs are becoming smaller, meaning more functions should be fitted in smaller spaces.

Impact on NCAB

NCAB's growth is driven to a certain extent by this change – though NCAB has historically grown at a faster rate than the market. NCAB is in a good position with a favourable spread across several industries making the company less dependent on temporary dips in a specific end-industry. NCAB, with its solid expertise and experience, is favoured by the trend towards greater complexity and miniaturisation of PCBs, since the resulting demand for design support increases.

PCB production moves to Asia

European, North American and South American manufacturers accounted for 42% of the PCB production in 2000. In 2016, the corresponding figure was 9%. China's share of the global production increased from approximately 8% to 49% during the same period. The large movement between 2000 and 2016 is mainly related to production in the High-Volume segment, while the production that is still remaining in Europe and North America primarily relates to the HMLV (High-Mix-Low-Volume) segment. The production is now moving to Asia at a slower pace than previously, however, the decreasing domestic production is today largely concentrated to the remaining HMLV production.

Impact on NCAB

The consolidation among manufacturers is expected to strengthen the position of suppliers, such as NCAB, which have greater purchasing power by aggregating customer demand. In addition, the growing manufacturers often gain market shares by selling directly to larger customers. However, this mainly impacts the High-Volume segment where NCAB is not active.

Consolidation of manufacturers in China

There is an ongoing consolidation of PCB production and manufacturers in China, mainly in the form of larger manufacturers outgrowing the market. This makes it increasingly difficult for customers to secure favourable terms unless they are a significant customer to the growing manufacturers.

Impact on NCAB

According to a report from EY, production movement over the next five years will result in a reduction in locally produced PCBs in Europe and North America of about USD 250 million, in favour of an equivalent increase in imports. Suppliers, such as NCAB, are well-positioned to benefit from the anticipated increase in net imports in Europe and North America.

Stabilising PCB prices

In recent years, PCB prices have been under pressure, primarily due to capacity increases and exchange rate fluctuations. A better balance in global supply and demand as well as adjusted price levels between markets are forecast moving forward. The average prices of PCBs are expected to stabilise, as a result of the price pressure on PCBs being offset by an increased share of more expensive high-tech PCBs. Production costs are expected to be stable, as increased cost for material, staff and regulatory compliance is expected to be offset by further automation and process improvements.

Impact on NCAB

Electronics face a constant price pressure, which is partly channelled down to PCB manufacturers,
especially in the High-Volume segment where NCAB is not active.